Guided Trips
Skomer Island
Skomer Island is number one on everyone's list of places to visit in Pembrokeshire, and that is due to the amazing seabirds and one in particular – the Puffin!  However, there is much more to Skomer than bright-billed auks, so make sure you get as much out of any visit as possible.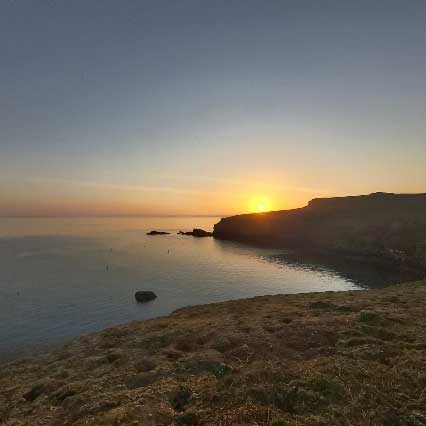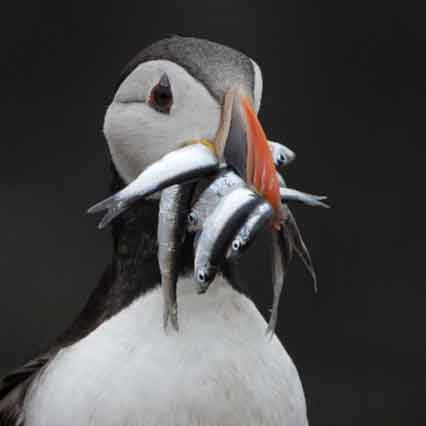 Everything you need to know about visiting Skomer is available on the Wildlife Trust of South and West Wales website, as they manage the island under a lease from Natural Resources Wales.
Monday guided walks
I lead guided birdwatching walks for the Wildlife Trust on Mondays between May and July (not every Monday, see below). These trips are special because the island is closed to day visitors on Mondays, so other than the staff and overnight guests, we have Skomer to ourselves!
During our walk we will cover the majority of the network of island paths, around 6km in total, at a very steady pace with lots of stopping to look at birds! It is usual to see 40-45 species of bird during the walk, including Puffin, Razorbill, Guillemot, Short-eared Owl, Peregrine Falcon, Chough, Raven, Wheatear, Stonechat, Sedge Warbler and Common Whitethroat. The May trips have the best chance of migrants and scarce visitors, the July trips Puffin bringing sand-eels to their single chick.
2024 dates: 20th May, 3rd June, 10th June, 17th June, 24th June, 1st July, 8th July & 15th July
Price: TBC (in 2023 it was £60, which covers the landing and guiding fee, plus £20 boat fare which is paid on the day on the boat)
Bookings: NOT YET OPEN (bookings are made through the Wildlife Trust of South and West Wales Island Bookings team: islands@welshwildlife.org, tel. 01656 724100, Mon-Fri 10am-4pm)
Private trips
If the Monday guided walk isn't for you, you can book me for a private trip. You will need to contact me to arrange a suitable date, and then book tickets for you / your party plus me. Mid April to end of July can sell out very quickly, so it is best to be organised and be ready to book your trip when the day landing trips open for online bookings. This is usually November / December for the following year, visit the Dale Sailing Pembrokeshire Islands boat trips website for more information.
Residential events
I also lead residential events on Skomer for the Wildlife Trust of South and West Wales during spring and autumn migration. These are usually three-night stays in the island hostel, with the focus on bird identification and enjoying the island outside of the main 'Puffin season' (although they are there in spring).
This is also a chance to experience the largest Manx Shearwater colony in the world at night, when birds return to their burrows under cover of darkness. With 350,000 breeding pairs on Skomer, staying in the colony is one of the UK's finest wildlife spectacles.
2023 dates: see poster below for details of the September autumn migration events – SPACES AVAILABLE!
2024 dates: Spring Migration 13th-16th April, Autumn Migration 14th-17th September
Price: to be confirmed
Bookings: NOT YET OPEN (bookings are made through the Wildlife Trust of South and West Wales Island Bookings team: islands@welshwildlife.org, tel. 01656 724100, Mon-Fri 10am-4pm)